Virtual tour
Welcome to our tour. We are particularly proud of our facility and we would enjoy showing it to you.
After three years of architectural design, the building was constructed in 2001. The entry is patterned after the architecture of Jerusalem, especially in the Jewish Quarter, emphasizing the use of arches and stone.
The joints in the stone are scored to echo the Herodian stones of the Western Wall. Under the large stone arch, the driveway is paved with stones which recall the stone walks of the old city.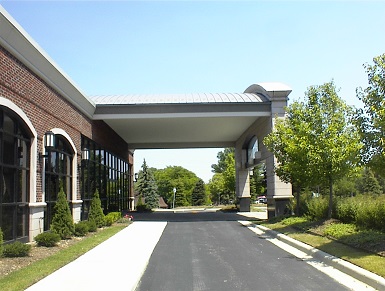 A large porte cochere provides a protective cover for families and pallbearers to accompany the deceased with dignity, regardless of weather conditions. Two exterior entrances reduce the amount of walking required for visitors to enter the structure and a separate family entrance provides family privacy. The arched theme is continued on the remainder of the building in the windows.
The brick, limestone, granite, massive evergreens, flowering trees, pond and forest organically blend and enhance the Farmington Hills community. The glass panels face out into a garden leading from the spacious family room where families may reflect or simply allow the beauty of nature to offer comfort.
Natural light floods the Chapel through twelve skylights each representing one of the twelve tribes. The building combines modern technology and traditional materials to create a warm, tireless feeling. Neutral, understated colors and traditional furniture that create a warm comforting aura reflect the solemnity and dignity of the occasion without appearing somber.
Take Tour 2- The Various Rooms in the Building.
Take Tour 3- The Stained Glass and Artwork.